Harry Potter and the Uighur Revisitation
An update to Harry Potter and the Uighur Enigma has been long over due! Some major life-events interrupted my investigation into this translation, but I have learned a lot in the interim.
Since my first post, ThePotterCollector got the book in-hand and sent me much better quality photos of the book. Then he sent me the book itself to inspect first hand. I couldn't quite bear to let it go though, so we came to an agreement and now it's in my collection. I owe him many thanks for that!
Also, at the outset, I'd like to recognize Tahir, one of my readers who, as a Uighur speaker, has been instrumental in helping me work out what is going on with this book.
While I did accurately answer the primary question, 'Is this a Uighur translation of Philosopher's Stone?', I wasn't totally correct on the details, most notably the title text.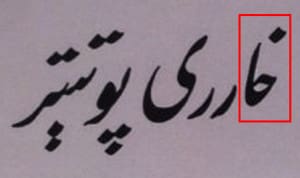 I said:
But that first character! Anyone with a cursory understanding of the Arabic script (in Arabic) would be like "what the heck is that 'b'-lookin' thing?"
which even I recognized was a pretty dumb thing to say as soon as I saw the actual printed title. The initial character is pretty unambiguously, and in retrospect, obviously:
خا
Several readers pointed this out to me right away, and I am grateful to them! So officially, for the record, here is the actual title of the book and it's details:
| | Language | Script | |
| --- | --- | --- | --- |
| Title | UIG | ARAB | خاررى پوتتېر ۋە سېھىرلىك ئەڭگۈشتەر |
| Title | UIG | LATN | Xarri pottër ve sëhirlik enggüshter |
| Translator | UIG | ARAB | ئالىمجان ئازات |
| Translator | CMN | HANS | 阿里木江·阿扎提 |
| Translator | ENG | LATN | Azati Alimujiang |
| Publisher | CMN | HANS | 新疆青少年出版社 |
| Publisher | CMN | LATN | xīnjiāng qīngshàonián chūbǎn shè |
| Publisher | ENG | LATN | Xinjiang Juvenile Publishing |
| Distributor | CMN | HANS | 新疆新华书店 |
| Distributor | CMN | LATN | xīnjiāng xīnhuá shūdiàn |
| Distributor | ENG | LATN | Xinjian Xinhua Bookstore |
| Publication Date | | | 2012-04-01 |
| ISBN | | | 978-7-5515-1345-6 |
And some higher quality images:
ISBN Analysis
In the original pictures, the book clearly had an ISBN number, but it was too small to make out.
The book's ISBN (978-7-5515-1345-6) does check out. 7 is China's country identifier and 5515 is Xinjiang Juvenile Publishing. (I found the Global Register of Publishers! You don't know how excited that makes me!)
So it appears that the book's ISBN is legit.
Translation of a Translation
The Chinese and Uighur copyright pages are more or less equivalent. The major differences are at the top of each page where the Uighur version has a blurb in Uighur and Chinese and the Chinese version has the citation/library classification information that often appears with on the copyright page. The blurb does give us some more information about the translation:
本书根据人民文学出版社2002年2月第12版第1次印刷本翻译出版
Roughly translated:
This (Uighur) book is based on the February, 2002 12 edition, first printing of the (Chinese) translation published by the People's Literature Publishing House.
So, in effect, it is a translation of a translation.
Second printing
The book has another printing! Tahir brought it to my attention when he found it for sale at Kitabhana.com. Sadly, as much as we tried, we couldn't get our hands on a copy (at least not yet) since the site won't ship out of mainland China.
They were, however, kind enough to provide some wonderful, good quality images of the book:
This printing was in August, 2012, 4 months after the original. The original print run was 8160, and this was 13,630, so it appears the books was popular (as if HP is ever not). The formatting is slightly different, but the content is the same. The big difference is, obviously, the cover art. The front cover is lifted from the EA Games "Harry Potter and the Sorcerer's Stone" video game and the back from the DVD release of the movie.
We've seen this before! The unauthorized Nepali translation used the same video game art: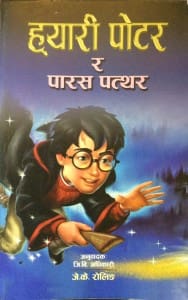 and the unauthorized Farsi used movie images (albeit not the same ones):
Authorized or Unauthorized?
In my first Uighur article, I said:
ThePotterCollector came to me with an intriguing photo of a book the seller claimed to be a Uighur translation of the Philosopher's Stone (obviously unauthorized).
and it is worth expanding on why I believe this book to be an unauthorized translation given that it appears to be published by a reputable publishing company that gave it a legitimate ISBN. In North America or Europe, I'd be moved by that as a factor, however, China is notorious for violations of copyright that we take for granted.
I do believe that this is a legitimate publication in the sense that all the publisher details are accurate and above board (versus, for example, buying an illegal copy of this book that has been photocopied). I don't believe that the publisher obtained the proper permissions to translate and print this book from J. K. Rowling. In most Western countries, those things aren't really separable, but in countries like China, I think that they are.
These are the reasons that I don't believe this book is an authorized translation:
Not on J.K.'s Site: on J.K.'s official site, there is a list of official publishers. The list has a lot of problems, there's no question. A lack of inclusion is not sufficient to rule out an authorized translation, but had it been included we could definitively say it was authorized.
Cover Art: We have yet to see an authorized translation that does not have either a) original, country/language-specific art or b) the standard Mary GrandPré art.
No copyright statement: the "copyright page" for the Uighur translation does not provide the required copyright information you would see in any authorized edition, including the Chinese.
Translation of a Translation: This may be a bit of a tenuous argument, but I think it is very unlikely that an authorized translation would be based on another translation. I don't know for sure, but I'd be willing to bet that the official translation agreement would stipulate that the source material is the original English.
Availability: This book is hard to get a hold of. It's not listed on the publisher's site. It's not available from big Chinese websites like amazon.cn even though many other books from the same publisher are. This says to me that they are trying to keep a low profile and not draw international attention to the book.
I would be extremely surprised if it turned out this book was an authorized translation.