Unauthorized Uzbek Translations!
We've been trying to get our hands on these ones for a while, even just to confirm the details which were a little sketchy. @mcallister_alaskagrown finally did (photos courtesy of)—sadly still waiting on my copy!
These were translated from Russian by 'Lieutenant Colonel Dolimov Shokir Zokirovich' who appears to go by 'Dolimov Shokir' for short. I'm not too sure what to make of the ISBNs. They are all well-formed and the first publisher, Adabiyot uchqunlari, does appear in the ISBN Global Register; however, not with that code-block with appears to be unassigned. Prisoner of Azkaban appears to have switched publishers to an unregistered on, Navro'z although still using a well-formed ISBN.
Early editions of Philosopher's Stone appear to have had a slightly different title—Garri Potter va Falsafiy Tosh—in some photos, but those seem rare. Falsafiy translates to 'philosophical' and afsonaviy is 'legendary'.
Apparently Goblet of Fire and Order of the Phoenix have also been published, but still waiting on confirmation of that.
| | |
| --- | --- |
| Title: | Garri Potter va Afsonaviy tosh |
| Translator: | Dolimov Shokir |
| ISBN: | 978-9943-5256-9-6 |
| Published: | 2018 |
| Publisher: | Adabiyot uchqunlari |
| Purchase From: | If you find out, let me know! |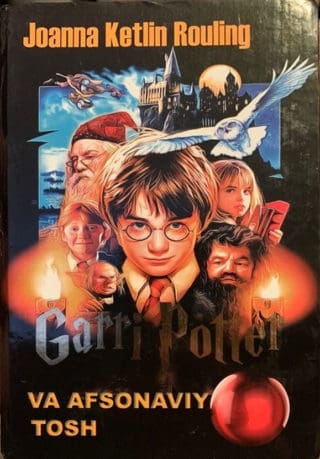 | | |
| --- | --- |
| Title: | Garri Potter va Maxfiy xona |
| Translator: | Dolimov Shokir |
| ISBN: | 978-9943-5256-8-9 |
| Published: | 2018 |
| Publisher: | Adabiyot uchqunlari |
| Purchase From: | ? |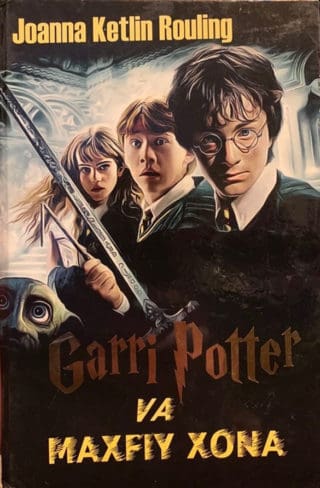 | | |
| --- | --- |
| Title: | Garri Potter va Azbaban mahbusi |
| Translator: | Dolimov Shokir |
| ISBN: | 978-9943-3819-8-8 |
| Published: | 2018, 2019 (conflicting dates in the front-matter) |
| Publisher: | Navro'z |
| Purchase From: | ? |